We recognize that all of our patients are unique and deserve to receive dental care that reflects their individual needs. Our experienced and talented dental team is committed to working with you and your family to create a comfortable, stress-free, and rewarding dental experience every time you visit our practice. We are pleased to welcome you and your family, and we look forward to working with you.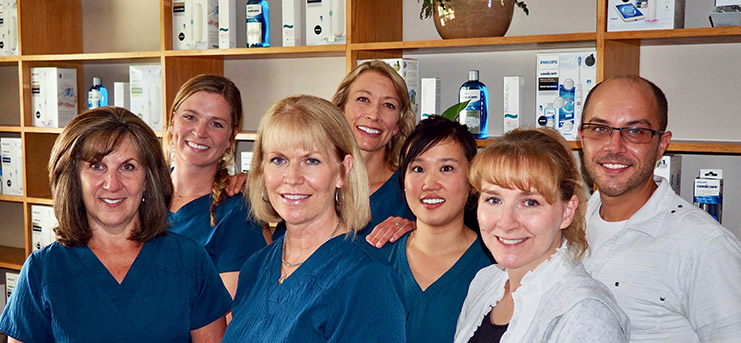 ---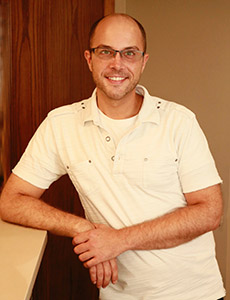 Kyle
Office Manager
Kyle works hand in hand with our doctors in the management of our amazing team of individuals and daily operations of the facility. He originally worked as a front desk staff and was quickly promoted to Financial & Treatment Coordinator where he helped patients understand and utilize their insurance to best optimize their treatment needs. Kyle works hard to achieve our common goal to meet or exceed our patients' expectations from the first time they walk in the door until the time they leave.
When Kyle isn't in the office, he enjoys doing anything outside during the summer months. His also spends time gardening, home remodeling, going to the beautiful beaches of Michigan, spending time with friends and family, and walking around the city.
Michelle
Front Desk Coordinator
Michelle made her start as a member of Dentists on Eastcastle in May 2017. Her career in the dental field started in 1998! She has worked as a front desk associate and a dental assistant at various times. She is certified in dental radiography and is familiar with all facets of the dental office. Michelle enjoys getting to know our patients on a personal level and develop long-lasting relationships with them. She also enjoys the teamwork in our office, where everyone from the assistants to the doctors is always willing to lend a hand.
Michelle has been married to her husband Hanxay for 23 years. They have two children, Hannah who is a junior at WMU studying electrical and Noah who is a junior DK High School. Michelle is most happy when she is in church singing, but she also loves walking, reading a good book, and sharing a good meal with friends.
---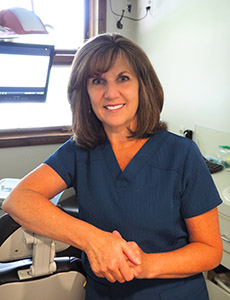 Joyce
Dental Assistant
Whether she's assisting the doctors as they care for our patients, taking digital X-rays and impressions, or setting a patient's mind at ease, Joyce makes sure each patient is comfortable. She's always focused on a patient's state of mind, and excels at helping nervous patients relax and feel safe during their visit. Joyce loves getting to know new people, and building relationships with them.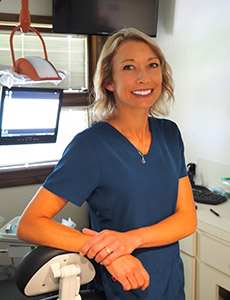 Andrea
Dental Assistant
Andrea enjoys meeting new patients. She finds it especially gratifying to see an anxious patient transform as they learn our dental office isn't a scary place. Working with our patients, Andrea takes impressions and radiographs, sterilizes equipment and tools, and assists our doctors. Her most important duty, though, is to make sure every visit is a positive experience for our patients and she'll do everything possible to make sure that happens.
---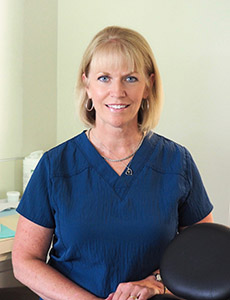 Elaine
Dental Hygienist
Spending her days talking with and helping our patients attain and maintain healthy mouths, Elaine offers gentle, thorough oral hygiene care. She asks her patients about their lifestyle and concerns, and speaks with them about their specific dental health needs. Delivering education while she cleans their teeth, Elaine helps each patient learn about the best home care routines and products to keep their mouth in great shape.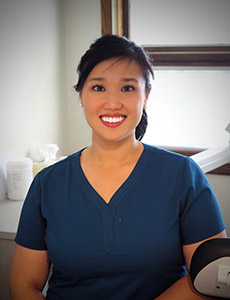 Tracie
Dental Hygienist
Tracie is dedicated to educating her patients on their oral health and how it affects their overall health. She earned her Bachelor's degree from the University of Michigan in Dental Hygiene in 2011, has completed an additional certication to administer anesthetic and joined our team in 2018. Tracie is wonderful at building connections with her patients and helping them feel at ease. She very much enjoys working with our friendly and personable team.
In her time outside of work, Tracie spends time with her puppy, Bok Choy. She is a bookworm and foodie who loves to travel and stays active by running, boxing, and playing golf.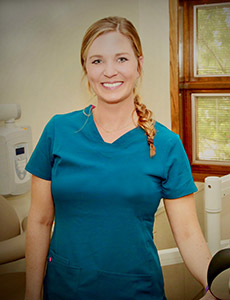 Hillary
Dental Hygienist/Dental Assistant
Hillary has worked in dentistry since 2010, starting her career as a dental assistant and earning her hygiene degree from Ferris State University in 2014. Since joining our team, Hillary has made it her mission to get to know her patients on a personal level and spreading her knowledge of achieving good oral health. Additionally, she has also recieved an additional certification to administer anesthetic.
Outside the office, Hillary plays co-ed soccer, travels to visit friends in and out of state, works out, and spends time with her family and two nieces. She is a member of the Junior League of Grand Rapids that promotes good health and wellness of children in the greater Grand Rapids area.